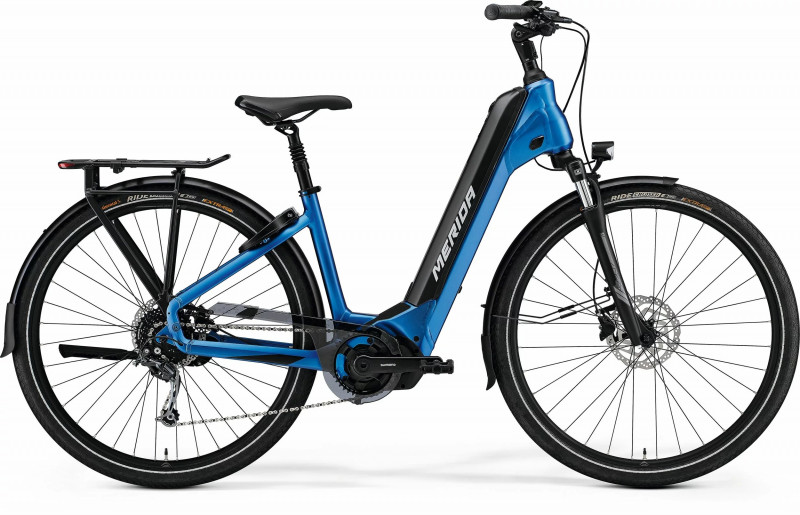 Merida eSPRESSO CITY 400 EQ Electric Bike
On Sale
$3,499.00
$4,999.00

Merida eSPRESSO CITY 400 EQ Electric Bike

The Merida eSPRESSO CITY 400 EQ Electric Bike combines our latest low step-through frame design with a powerful internally mounted 504 Wh battery and Shimano's dedicated E6100 drive unit, resulting in exceptional functionality at an impressively affordable price. Carefully selected components strike a perfect balance between performance and cost, making it the intelligent choice for navigating urban environments. Equipped with Shimano's reliable 9-speed drivetrain and robust hydraulic brakes, this bike ensures dependable performance. Furthermore, it comes standard with essential accessories such as guards, rack, lights, lock, and kickstand, eliminating the need for additional expensive add-ons.
In the fast-paced city life, optimizing your time becomes crucial, and the eSPRESSO CITY is designed to help you effortlessly reach your destinations in comfort. Featuring a range of smooth and powerful pedal-assist motors, a convenient low step-through frame, and standard accessories like lock, mudguards, lights, and rack, this bike simplifies urban commuting. All models, except the 300 SE EQ, incorporate the ENERGY CRADLE frame design, which securely holds the internal battery (model-specific) within a lower and wider step-through frame for enhanced rigidity. These models offer the choice between derailleur or low-maintenance hub gearing options.
Comes with 12 Months free service.
Made in Taiwan
Specifications:
Frame: eSPRESSO CITY LITE II

Material: Aluminium

Max. Wheelsize: 700x50C (with fender)
Axle Standard: 135x9mm
Internal Battery: Yes
Max. Battery Capacity: 630 Wh
Frame Sizes: XS, S, M, L, XL
Color: Matte Anthracite (Black)
Fork: Suntour NEX E25
Suspension Type: Coil

Suspension Travel: 63mm
Max. Wheelsize: 700x52C
Brakes: Shimano MT-200
Piston Count: 2

Rotors: Shimano RT10 / Shimano RTEM300
Diameter: 180mm

Headset: MERIDA CAP w/ wire gateway
Handlebar: MERIDA EXPERT TK

Material: Aluminium

Width: 640mm
Rise: 35mm
Handlebar Stem: MERIDA EXPERT TK
Material: Aluminium

Diameter: 31.8mm
Adjustable: Yes
Length: 65mm (XS/S/M), 90mm (L/XL)
Grip: MERIDA EXPERT TK
Rear Derailleur: Shimano Deore M592

Type: SGS

Shifters: Shimano Alivio M3100
Seat Post: MERIDA EXPERT TK

Diameter: 30.9mm

Setback: 15mm
Suspension Travel: 40mm
Seat Clamp: MERIDA EXPERT
Saddle: MERIDA EXPERT TK

V-mount

Pedal: VP VPE-891
Chain: KMC e9S

Chainguard: Sunnywheel SW-CG-173A

Chainwheel: Shimano CRE61

---