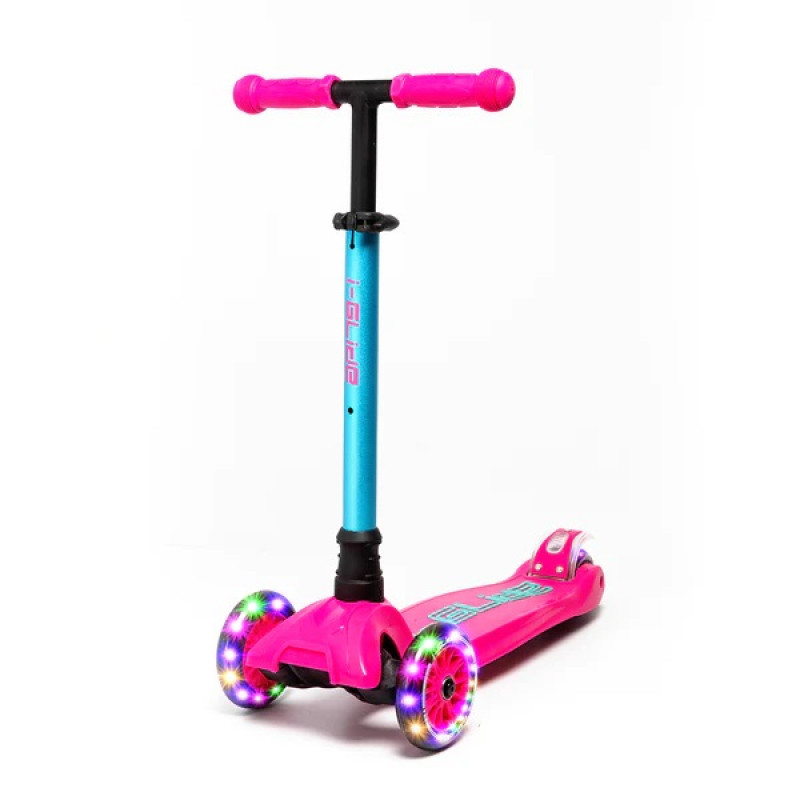 i-Glide Kids 3-Wheel v3 Scooter
On Sale
$99.00
$119.00

i-Glide Kids 3-Wheel v3 Scooter with light up front and back wheels.

The i-Glide Kids 3-Wheel v3 Scooters - an ideal way for children to embark on a journey of early development while having a blast. These scooters are tailored to help kids build essential skills like balance, coordination, and motor skills in an engaging and active manner. Plus, with the option to add a custom scooter seat (available separately) for beginners and remove it as they progress, these scooters adapt to your child's growth seamlessly.
Seamless Riding Experience
The i-Glide Kids v3 Scooter offers a smooth and straightforward riding experience. Thanks to its innovative front-wheel easy-steer technology, children can effortlessly lean to steer the scooter, honing their balancing and maneuvering skills. For added safety and peace of mind, it's equipped with a well-designed wide steel-braced push brake, ensuring confident stops when needed.
Comfort and Adjustability
Designed with little hands in mind, the scooter features ultra-soft handlebar grips in vibrant colors, offering comfort during those thrilling rides. The adjustable handlebars make it a breeze to choose the perfect height for your growing child.
Spacious and Durable Deck
The i-Glide v3 kick scooter boasts a wide footboard (deck) measuring over 5 inches, providing ample room for children to firmly place their feet. The slip-proof surface adorned with the i-Glide logo ensures a safe and secure riding experience. Thanks to the deck's reinforcement, it guarantees gliding stability, supporting riders up to 50kgs (110lbs) during regular use.
Wheels and Brake for Safety
Safety is paramount, and this micro scooter delivers. With its three-wheel configuration, including two wide front wheels (120mm) for steering and two wide rear wheels (80mm) for balance and braking, it offers a steady and well-balanced ride. What's more, the i-Glide v3 Scooter comes equipped with kinetic light-up polyurethane wheels that illuminate as the scooter is in motion, adding a fun element for kids and enhanced visibility for parents.
Convenient Transportation
Transporting or storing the i-Glide Scooter is a breeze, thanks to its purposeful design. The quick clip system beneath the deck allows for effortless removal of the handlebars, making it easy to pack and store.
Vibrant Colors to Choose From
The Kids i-Glide Scooter comes in a variety of eye-catching colors, catering to the preferences of both children and parents. These bold color options open the door to fun matching with helmets and other accessories, allowing your child to make their scooter truly their own.
Explore Exciting Accessories
Discover a range of exciting accessories compatible with the New v3 i-Glide Kids 3-Wheel Scooter. From the Scooter Seat that transforms the scooter into a balance bike for the littlest riders to adorable Scootee Cuteez Unicorn or Dinosaur Head add-ons, there's something for every adventurer.
Key Features of the i-Glide Kids 3-Wheel Scooter:
Effortless Lean to Steer Technology
Height Adjustable Handlebars to Grow with Your Child
Attachable Seat Accessory for Beginner Cruisers (available separately)
Wide Reinforced Deck (supports up to 50kg)
Kinetic Light-up Polyurethane Wheels (2 front & 2 rear)
Dual rear wheels for superior braking.
Ultra-soft Handlebar Grips
A Variety of Stand-out Color Options
Suitable for children 1 year and older with Seat
Scooter recommended for 2 years and above, or based on the child's development
Compatible with all i-Glide Accessories!
Experience the joy of riding and learning with the i-Glide Kids 3-Wheel v3 Scooter - where fun meets development!
---